Eulogy of Sr.Roseline Pampackal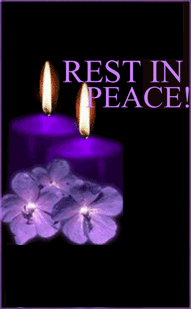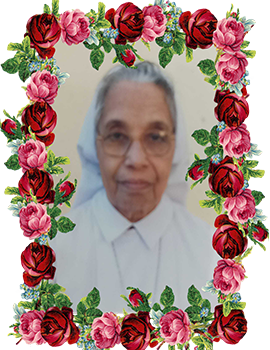 Farewell to our dear Sr. Rosaline
Happy are those who die in the Lord, happy indeed the Spirit says, "Now they can rest forever after their work, since their good deeds go with them". Rev. 4:23.
Fortunate are we who are present here to attend the funeral service of a saintly person. Like the gentle glow of the setting sun, Sr. Rosaline departed softly, silently and effortlessly around 9.30 am, Yesterday (03.03.2023). She attended the Holy Mass in the morning, received the Lord whose presence she always cherished, her last words to Sr,Regina Mary was 'I am going to pray, you pray for me' and she went to her room and around 9.30am in her sleep she passed away, this shows what Sr. Rosaline is.
There was great Joy and excitement on 21st September 1932 in the family of Mr. Mathew Pampackal and Mrs. Mariamma, as they welcomed their first born at Palai, Kerala. They had 10 children, 4 boys and 6 girls. Her parents were very pious and instilled the fear of God in their children. Family prayers in the morning and evening and the daily Eucharist nourished their lives.
Her Primary education was at Little Flower School owned by CMC Sisters at Mundankal. Middle and High School was with the F.C.C. Sisters. After the completion of her S.S.L.C. Examination, Sr. Rosaline joined the Band of the Sisters of the Cross, through the instrumentality of her Aunt, late Sr. Marie Celine. Younger Sisters Sr. Claris and Sr. Macarias joined the CMC Congregation. These two Sisters went before their eldest Sr. Rosaline to welcome her to sing the praises of God for all eternity.
Today, we take time to salute Sr. Rosaline for her contribution to the Growth of the Congregation and the communities that she lived in. Sr. Rosaline entered Postulancy in 1953 and pronounced her First Vows in 1956 and Final in 1959.
Sr. Rosaline served the Congregation in different Capacities – as Teacher, Headmistress, Superior, Postulant Mistress, Asst. Novice Mistress, Delegation Superior and Secretary to the Bishop of Guntur, Andhra Pradesh. Her Theological studies at Regina Mundi, Rome from 1970-1973, gave her great impetus to cross the frontiers to work in Tanzania as a Missionary from 1979-1981 as one of the Pioneers to start the Mission in the East African soil in Tanzania. Sister had the privilege to teach in the Seminary and formed many holy Priests for the African mission.
Through her service of love, dedication and concern for the Sisters she facilitated fruitful apostolic involvement of her community, wherever she had been posted. She was fortunate to work at Vadugarpet, Tuticorin, Vellore, Hyderabad, Bapatla and Nandiraju Thota. The zestful and lively labour of her youthful days, sense of commitment and faithful service of her adult years, humble and submissive act of her community life, charitable and disciplined holy life, childlikeness in her attitude in accepting God's designs, life experience of long years lived in cheerfulness and gratitude even in her old age are the real heritage Sister has left to all of us. Sister had toiled in the Vineyard of the Lord as an educationist, Administrator, Mentor, she gave her very best, for her deepest desire as expressed by her, "to burn out like a candle till it finishes itself."
Sr. Rosaline had a cheerful disposition all through her life which attracted the students, teachers and the people to her. She was simple in her approach, kind in her dealings and committed in service. Her humorous and witty ways kept the community alive. Sister was a daring person who could face challenging situations with courage and determination. She was a woman of faith and prayer who gave importance to spiritual activities in her personal life and in her mission. She fulfilled the tasks entrusted to her with a sense of responsibility and spirit of dedication. Person with sensitive heart, reached out to the families of her students, teachers, sisters and others in time of their trouble and crisis. Her qualities of neatness, cleanliness, orderliness, punctuality, listening keenly with commitment and dedication were the hall mark of her life. She was always supportive and understanding towards the formees in the community. She encouraged them in their vocation and taught them to have a positive outlook towards life. She possessed within her a childlike spirit which stayed with her till the end.
Sr. Rosaline was blessed with the passionate love for God. Her deep attachment was evident in her words and deeds. Sister lived a profound life of Prayer. Prayer was her breath, her oxygen and her source of hope. Eucharist and Rosary were her constant companions as life's journey.
In 2015, Sr. Rosaline came from Andhra Delegation after her very active involvement in the mission as she was sick. She was transferred to Mambalasalai, Tamil Nadu for Rest and Prayer. Even in her old age and sickness she was longing to go back to Andhra to do evangelization. From there in 2018 moved to Ashirvad for her intense preparation to meet her beloved. The appointed day for Sr. Rosaline to answer God's final call came on 3rd March 2023 after 67 years of fruitful service in the vineyard of the Lord. We thank the Lord for the gift of 91 years of her generous service to the humanity.
Dear Sr. Rosaline your spiritual stamina, authentic life, deep sense of optimism has been a source of inspiration to all of us in the community. You bloomed as a beautiful flower in the garden of Sisters of the Cross, and now you continue to beautify it by your heavenly presence. We, your dear Sisters from far and near along with the members of your family and friends bid you a loving adieu. May you enjoy the fullness of the heavenly bliss in the Celestial company of the Holy Trinity, Blessed Mother Mary and all the Angels and Saints who have received you into their arms of love. We wish you a fond adieu and request you to intercede for us till we meet again in our Father's home.
At this juncture, we express our debt of gratitude to the members of Pampackal family for their generous contribution to sacrifice their first born to the family of Holy Cross. May the good Lord reward you immensely.
Fond adieu dear Sr. Rosaline!
Sisters of Ashirvad Community
Trichy -17
Eulogy of Sr Ancilla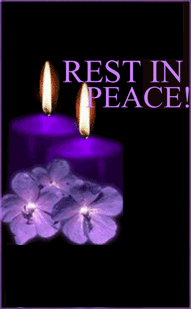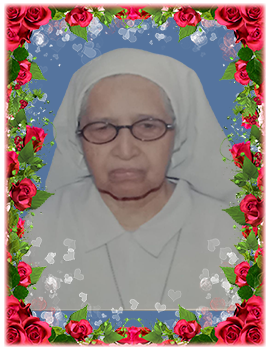 Farewell to our dear Sr. Ancilla Augustine
"Before I formed you in the womb I knew you and
before you were born I consecrated you" Jer 1: 5
Sr Ancilla was privileged to receive the call of God and offered herself whole heartedly to the Lord as she was born on 2nd Feb 1928, the day of the Presentation of the Lord, in Thrissur, Kerala for the pious parents Mr. Augustine Vanathu Perampil and Mrs. Elizabeth Challissery.She was the eldest among the three boys and three girls. Though her maiden name was Mary Augustine, she was affectionately called as Baby.
The day of her first Holy Communion and confirmation at the age of 7, in the capuchin monastery was the happiest and unforgettable day in her life. While she was doing High School, she was very much taken up by the kindness and gentleness of Sr. Emilie SCC, her cousin who came for holidays and was her inspiration to join our congregation, as per her wish to be far away from home as a missionary. As a young girl, she used to visit her cousin sisters, Srs. Emily, Josephine, Cecile, Aloysia and Sr. Eusubius who were the members of our congregation. Once when she and her father happened to meet Mother Sophie, she also motivated her to join the congregation.
Being confirmed of God's call to this congregation, sister Ancilla came to Fort in 1950 along with Srs. Jecintha and Cecile. She entered the pre-novitiate on 2nd July 1950, novitiate in 1951 and made her first profession on 4th Jan. 1953 at Amravati. She committed herself totally to the Lord and offered her life on 4th Jan 1956 in Fort, Trichy.
From 1953 to 1977 Sister was at Fort community fulfilling the responsibilities of being in-charge of Mess, Parlour and School Office. She was sent as a student in 1977 by Mother Marie Cecile for Sudeep Course at Bangalore.
From 1977 – 78 sister was in Novitiate community working in Government Hospital. From 1978 – 83 she was accomplishing the task joyfully as Needle work mistress, in-charge of Creche and Chapel at Cantonment. After finishing a year of training at Mambalasalai, she continued her mission as Needle work mistress in Kallakudi, Oddanchathram and Nellore from 1983 to 1994. The poor and the needy found place in her heart as she was fortunate to spend most of her time as Needle work Mistress. She chose to be humble and hidden like our Mother Foundress.
Sister had a charming and angelic look and was lovingly called as 'Fairy' by everyone. Many young girls who were attracted by her wanted to join the Congregation. She radiated God's love by instructing them to read Bible and share her experiences. She was kind, gentle, prayerful, sacrificing, not seeking to be someone but identifying with the suffering servant of God. She led a simple and cheerful life.
In 1993, as the sisters were going for mass in Nellore, a lorry dashed on the vehicle. The Jeep rolled twice and sister lost her right arm in the accident. Sr Ancilla has written in her Biography that "This accident gave a turning point in my life. My pride came down because I had an independent nature. Now I began to depend on others for my needs."
After her treatment she continued to serve in the community at Madras taking care of the chapel and parlour joyfully. She returned to Cantonment in 1998 and continued her mission as prayer warrior till 2010. Her soft voice and her gentleness revealed her constant communion with the Lord.
In 2010 Sister was diagnosed for cancer of the breast and underwent mastectomy after which she was shifted to Fort community. From then onwards she became very active in her apostolate of prayer interceding for the community, congregation, church and the world at large. In September 2021 Sister had a fall and underwent surgery which made her confined to her bed. Though she underwent a lot of physical sufferings, not a word of complaint escaped her lips. Instead, she united herself with the crucified Lord, living the paschal mystery. A flower does not force itself to exude its fragrance. Likewise, our beloved sr. Ancilla, naturally exuded God's love and mercy to all those who came in contact with her especially the poor people. She was quite contented, full of gratitude, peaceful and asking Jesus to give her the grace to accept His plan till she breathes her last.
Having lived 69 years of fullness in the Lord as an ardent follower of Jesus Christ her Master. She was always ready to meet her spouse in heaven as early as possible. Whenever the sisters went to meet her, she used to say "I am ready to go to heaven" Her preparedness to meet the Lord was a great inspiration to all of us. Her love and devotion for the Blessed Mother was visible and edifying when we saw her, promptly reciting the rosary loud even at her death bed.
Jesus was well pleased with the simple and unassuming life of our dear Sr. Ancilla and received her soul as she surrendered it in the presence of the whole community, after receiving the Holy communion at 8am on 13th Jan 2022 after living 94 years on earth.
Our beloved Sister Ancilla you were a joyful and exemplary religious who sought only God's love and attached to things that are of God and not of the world. We miss you dear sister, your company, prayerful support and encouraging words. Your life has touched each one of us and has left an imprint in us to be grateful and happy. As you have fought the good fight and finished the race kept the faith, may the Good God reward all your sacrifices on earth and grant you eternal bliss. We bid you farewell dear sister, till we meet again in heaven.
May the angels go with you, To the home of God's glory
May the saints bid you welcome, To the land of the living.
Your loving sisters of Fort community,
Province of Tiruchirappalli.
14-01-2022
Articles & Prayer Service