The Inter-Province On-going Formation Programme, held from October 15th to October 28th, 2023, at Nirmala Dhyana Sadan in Athvelly-Medchal, Telangana, South India, was a significant gathering for 59 sisters from Asian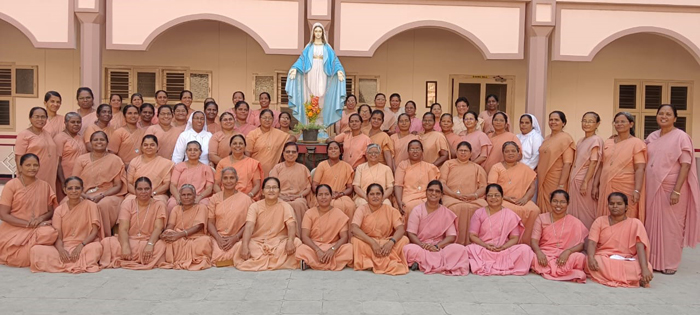 provinces (Amravati – 06, Pune – 08 Trichy – 12, Madurai – 12, Sri Lanka -01, Kolkata – 07, Angamaly 04, Guwahati – 08, Tenali – 1). The theme of the program was "Awakening to our call to be Missionary Disciples."
The Programme was skillfully organized by Sr. Mary Pinto, the Provincial of Amravati, and Sr. Helen Daisy, the Provincial of Tenali. Assisting them in this endeavor were their secretaries, Sisters Lydia and Sunitha. Their dedication and commitment were instrumental in ensuring the success of the program.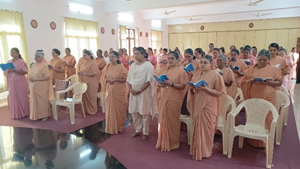 The program commenced with a solemn inaugural ceremony. A procession by the participants added a touch of reverence to the occasion. During the procession, one participant from each province carried placards representing their respective provinces followed by a short prayer service. This symbolic gesture symbolized unity and diversity, emphasizing the shared mission of the congregation.
Sr Mary Pinto, Provincial of Amravati welcomed the participants followed by ice breaker activities to foster a sense of community and familiarity among participants. A reflective session led by Fr Edison Fernandes, SDB focusing on individual life journeys and spiritual growth. Fr Luke Rodrigues, SJ, conducted a workshop on discernment and its practical application in daily life.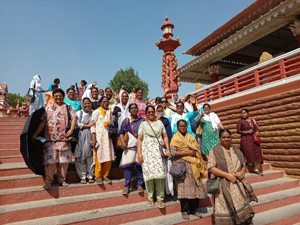 A day dedicated to relaxation, leisure, and exploration of the local surroundings. This outing aimed to provide a break from the program's routine and promote a sense of camaraderie among participants.
Sr. Jiji Mathew, SCC led a session on self-management, offering insights into being resourceful, emotional control, and stress. management.
Sr. Saveri Saverimuthu, SCC explored the concept of being a missionary disciple from the life of our founders and the early sisters. She discussed the challenges and opportunities in this role.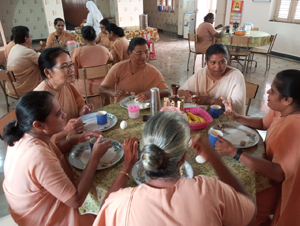 The organizing team led a session for the evaluation of the program, providing participants with an opportunity to share their feedback and insights. The program concludes with a closing prayer, marking the end of the Inter-Province On-going Formation Programme.
Sr Bridget Chelladurai
Province of Trichy