A loving tribute to our beloved Sr.Pacifica Damian Vitangee
"I have fought the good fight, I have finished the race,  I have kept the faith,  From now on I will be with the Lord the  righteous judge who has reserved for me the crown of righteousness." 2 Tim 4: 7-8                                                                       Yes dear friends, the retrospection into the annals of Sr.Pacifica's life leave us spell bound to see the wonderful plan of God in her life and how He carried her on Eagle's wing in valleys of darkness and pinnacles of brightness.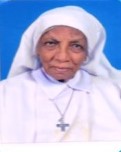 Sr.Pacifica Damian was born in Srilanka in the year 1929 as the 2nd child to a pious Buddhist parents,  Mr.Damian and Mrs.Elizabeth Alice. Her maiden name was Lora. She did her schooling, in Buddhist school, up to 5th std and at the age of 8 she was baptized by a German priest Rev.Fr.Venastin S.J.. She was christened as Roselyn. From then on, she cultivated a great love for the Eucharistic Lord. "The thoughts one nurtures, the values one imbibes and the conscience one forms during the younger days becomes a guiding force in later years. It was very much true in the life of our beloved Sr.Pacifica.  Being educated and brought up by the Holy Angels sisters in Sri Lanka, their way of life inspired her to be a religious. Seeing the Cross in her dream she got attracted and convinced to be a sister of the Cross and this has strengthened God's persistent call to her. Of course she went through many hurdles in her childhood. But she kept telling us that God had done marvelous things for her always. She wanted to be a missionary. So God carried her to India and she entered Holy Cross Novitiate in the year 1952 at Amaravati and made her first profession in 1954 and the final profession in 1957.
Sr.Pacifica had much to preach – message to communicate, not in words but through what she lived over sixty five years in this religious life. In her mission, which was always within the four walls – it wouldn't be an exaggeration to say that she joyously related more to pans and spoons, fruits and vegetables, cakes and bakes than anyone else could have done. In January 1954, she began her ministry in Trichy Novitiate community and was in charge of the catering department. All the novices whom she cared for, and looked after with good delicious food, still speak volumes about her great love. Indeed all of them still remember her with love.
She began a lengthy period of service, within the religious community starting from Novtiate, Perambur, Provincialate and now at present with us in cantonment community. There were moments of challenge which radiated, the flame of love for the mission of Jesus. What is even more remarkable in her is, the love for little children. For twenty five years, she was in charge of the babies in the crèche at Perambur, once the Parish Priest found a forsaken baby and immediately brought the child and entrusted her to Sr.Pacifica saying that "She is another Mother Tresa who really cares for the forsaken children." Though, years passed by, still the parents of these children are very grateful to her and have correspondence with her. Some of them are here with us today to bid farewell to her.
The routine task she performed never led her to boredom or frustration – for she always in tune with the signs of the time, always up to date on her mission. Though her occupation is mostly confined to convent, her contact with people is far and wide. Her friends and beneficiaries are scattered probably in all the continents. For the past few years falling and shedding blood has become a recurring event for her. However no pain and no stitches had kept her tied to her bed! With all those aches and pains she was always out of her bed – ready with a knife and a wooden plank to start her routine work.
We really wonder – where does she get all this strength and will power, that kept her body and mind going steadily. Yes! It's the wonderful time she spent with the Lord during the dark hours of the morning and the late hours of the evening that enabled her to find newness and meaning even when everything remained unchanged. She always says that "religious life is not free from pain and strains yet God is always there to make us understand that nothing could separate us from His surpassing love."
Sr.pacifica always inspired the community through her unassuming nature, Simplicity, patient endurance, compassionate heart and deep attachment to the Eucharistic Lord. Her thirst for Holy Mass is highly inspirational to all those lived with her. whether it is dawn or dusk her only question is "when is the Mass?" We can proudly say that she was truly a missionary. True to the spirit of a missionary she lived a life of total  detachment from her kith and kin and led a hidden life like Mother Claudine Echernier living the spirit of congregation joyfully and effectively. She never complained about her great suffering, rather she always mentioned that she participated in the sufferings of Jesus.
In recent past her health condition was deteriorating , yet she was regular for Mass and other  spiritual activities. On Monday (1st July ) evening she had the blessing of receiving the last sacrament with full conscience surrounded by community sisters praying with her. After that her health condition was becoming bad and on 4th July around 8.05 a.m she breathed her last in the presence of the community sisters praying and glorifying God.
Dear Sr. pacifica at your departure to your heavenly abode, the Holy Cross family lost a good, innocent, holy, apostolic, committed, happy and contented religious and an exemplary sister. We admire in you, the respect and the reverence you had for the priests of God by holding them in your heart through prayer. In short we can proudly say that you lived your life always for others. Dear Sr.Pacifica, we thank you for your unique contribution in touching the lives of many.  As you join all the choirs of Angels, Saints and our Sisters who have preceded us in our Heavenly Father's house, we are sure you will continue to intercede for us and remember us in your Heavenly Bliss.
We are sure, that today God blesses you, saying that "well done my good and faithful daughter inherit the kingdom prepared for you."
 A  Fond Adieu to you dear Sr. Pacifica Damian
Sisters of Cantonment,
Province of Tiruchirappalli. 06.07.2019