Eulogy of Sr Ancilla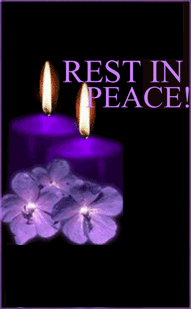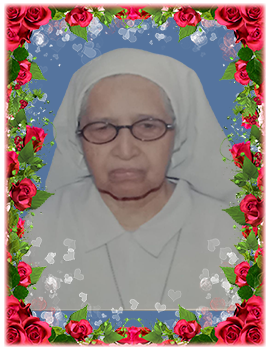 Farewell to our dear Sr. Ancilla Augustine
"Before I formed you in the womb I knew you and
before you were born I consecrated you" Jer 1: 5
Sr Ancilla was privileged to receive the call of God and offered herself whole heartedly to the Lord as she was born on 2nd Feb 1928, the day of the Presentation of the Lord, in Thrissur, Kerala for the pious parents Mr. Augustine Vanathu Perampil and Mrs. Elizabeth Challissery.She was the eldest among the three boys and three girls. Though her maiden name was Mary Augustine, she was affectionately called as Baby.
The day of her first Holy Communion and confirmation at the age of 7, in the capuchin monastery was the happiest and unforgettable day in her life. While she was doing High School, she was very much taken up by the kindness and gentleness of Sr. Emilie SCC, her cousin who came for holidays and was her inspiration to join our congregation, as per her wish to be far away from home as a missionary. As a young girl, she used to visit her cousin sisters, Srs. Emily, Josephine, Cecile, Aloysia and Sr. Eusubius who were the members of our congregation. Once when she and her father happened to meet Mother Sophie, she also motivated her to join the congregation.
Being confirmed of God's call to this congregation, sister Ancilla came to Fort in 1950 along with Srs. Jecintha and Cecile. She entered the pre-novitiate on 2nd July 1950, novitiate in 1951 and made her first profession on 4th Jan. 1953 at Amravati. She committed herself totally to the Lord and offered her life on 4th Jan 1956 in Fort, Trichy.
From 1953 to 1977 Sister was at Fort community fulfilling the responsibilities of being in-charge of Mess, Parlour and School Office. She was sent as a student in 1977 by Mother Marie Cecile for Sudeep Course at Bangalore.
From 1977 – 78 sister was in Novitiate community working in Government Hospital. From 1978 – 83 she was accomplishing the task joyfully as Needle work mistress, in-charge of Creche and Chapel at Cantonment. After finishing a year of training at Mambalasalai, she continued her mission as Needle work mistress in Kallakudi, Oddanchathram and Nellore from 1983 to 1994. The poor and the needy found place in her heart as she was fortunate to spend most of her time as Needle work Mistress. She chose to be humble and hidden like our Mother Foundress.
Sister had a charming and angelic look and was lovingly called as 'Fairy' by everyone. Many young girls who were attracted by her wanted to join the Congregation. She radiated God's love by instructing them to read Bible and share her experiences. She was kind, gentle, prayerful, sacrificing, not seeking to be someone but identifying with the suffering servant of God. She led a simple and cheerful life.
In 1993, as the sisters were going for mass in Nellore, a lorry dashed on the vehicle. The Jeep rolled twice and sister lost her right arm in the accident. Sr Ancilla has written in her Biography that "This accident gave a turning point in my life. My pride came down because I had an independent nature. Now I began to depend on others for my needs."
After her treatment she continued to serve in the community at Madras taking care of the chapel and parlour joyfully. She returned to Cantonment in 1998 and continued her mission as prayer warrior till 2010. Her soft voice and her gentleness revealed her constant communion with the Lord.
In 2010 Sister was diagnosed for cancer of the breast and underwent mastectomy after which she was shifted to Fort community. From then onwards she became very active in her apostolate of prayer interceding for the community, congregation, church and the world at large. In September 2021 Sister had a fall and underwent surgery which made her confined to her bed. Though she underwent a lot of physical sufferings, not a word of complaint escaped her lips. Instead, she united herself with the crucified Lord, living the paschal mystery. A flower does not force itself to exude its fragrance. Likewise, our beloved sr. Ancilla, naturally exuded God's love and mercy to all those who came in contact with her especially the poor people. She was quite contented, full of gratitude, peaceful and asking Jesus to give her the grace to accept His plan till she breathes her last.
Having lived 69 years of fullness in the Lord as an ardent follower of Jesus Christ her Master. She was always ready to meet her spouse in heaven as early as possible. Whenever the sisters went to meet her, she used to say "I am ready to go to heaven" Her preparedness to meet the Lord was a great inspiration to all of us. Her love and devotion for the Blessed Mother was visible and edifying when we saw her, promptly reciting the rosary loud even at her death bed.
Jesus was well pleased with the simple and unassuming life of our dear Sr. Ancilla and received her soul as she surrendered it in the presence of the whole community, after receiving the Holy communion at 8am on 13th Jan 2022 after living 94 years on earth.
Our beloved Sister Ancilla you were a joyful and exemplary religious who sought only God's love and attached to things that are of God and not of the world. We miss you dear sister, your company, prayerful support and encouraging words. Your life has touched each one of us and has left an imprint in us to be grateful and happy. As you have fought the good fight and finished the race kept the faith, may the Good God reward all your sacrifices on earth and grant you eternal bliss. We bid you farewell dear sister, till we meet again in heaven.
May the angels go with you, To the home of God's glory
May the saints bid you welcome, To the land of the living.
Your loving sisters of Fort community,
Province of Tiruchirappalli.
14-01-2022
Oration – Sr.Miriam Therese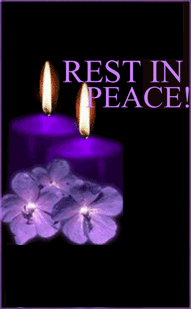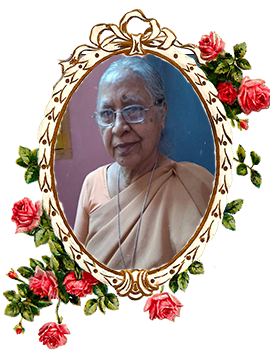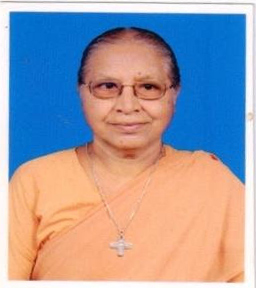 Farewell to our Dear Sr. Miriam Therese
"I have fought the good fight, I have finished the race, I have kept the faith From now on there is reserved for me, the Crown of righteousness Which the Lord the righteous judge, will give me on that day ". 2 Tim. 4:7-8
Sr. Miriam Therese was born as the third child to Mr. Antonisamy and Mrs. Arpudamary on 27th February 1938 into the family of deep faith in God and love for humanity at Varaganeri, Tiruchirappalli. Sr. Miriam was loved, petted and cared by her family and was very precious to her brothers and sisters. She was a loving, affectionate daughter and sister. She was good at studies and her father, who was a teacher used to invite the less privileged children of the locality to his home in order to assist them in their studies. This made her more responsible in her behaviour towards others in society and helped the students in their studies. She also helped her mother to make some edibles for those children, who would have starved at home.
Her parents were pious and faithful Catholics who brought up their children with strict discipline and with strong religious consciousness. Sr. Miriam used to go for daily mass and loved reading the lives of saints specially the life history of St. Teresa of the Child Jesus, Blessed Alphonse and St. Francis Xavier. She was inspired by their heroic Spirit, dedication and sacrifices they made in their lives. Her longing to join the Great Carmel order was bluntly refused by her Father but with much struggle she got permission to join Sisters of the Cross in June 1958 where she studied, with five other companions. She had a feeling that she was loved much at home as well as by her Novice Mistress Mother Theophine. She took life very seriously and made her First commitment on 21st December 1960. Her first community was Fort, started to work in the office, co-coordinating, unifying and even rectifying things with the help of senior sisters. There she learnt to keep up confidence and help the senior sisters, specially the sick and ailing members. She had the gift of relating with different people amicably and had learnt the art of silence.
In the year 1969, she was enrolled as a student of Commerce in a Hindu college at Nagercoil. She had secured a Gold Medal in Commerce. Then she worked as an Assistant Superior and Bursar at Mater Dei, Goa for three years. She was spiritually enriched by the courses attended to serve the Lord joyfully and fruitfully. After this she was appointed as Province Bursar and in charge of the Technical Institute at Mambalasalai. Later she took charge of the community at Fort from 1979 to 1982. Simultaneously she completed her Master of Commerce in Venkateswara University, Tirupathi in the distant mode of education.
Deeper study of our Origin and charism made her serve the poor in a village set up at Vadugarpet in 1982 to 1992. While working in the school she completed her B.Ed. in Annamalai University in the distant mode of education. She worked in Vadugarpet School for 5 years later she joined the Community at Kallakudi visiting the villages in the neighborhood and giving non-formal education in tuition centers, after her class. From 1989 to 1990 she lived in the village called Pudur – near Kulithalai and was engaged in evangelization and social work.
After her retirement from 1997 to 2000 she was in Novitiate as Sister- in- Charge to re-live and share her youthful spirit with others. From 2000 to 2002, she was Sister -in- Charge of the community at Golden Rock and 2002 to 2004 she was the Sister-in-Charge of Oliyamangam community. From 2004 to 2007, she was in charge of Diocesan Nursery School – Christ the King Matriculation School, at Namakkal and from 2007 onwards she took care of the neglected and deserted women in Shanthi Villa, Destitute Home at Amaithi Nilayam community.
For 14 years till her death, she had been the Director of the Destitute Home – caring and sharing her entire self with the neglected women of our society. Due to vomiting blood, breathlessness and distended abdomen, she was taken to Child Jesus Hospital and got admitted on 18th July 2021. As she was having some internal bleeding and low HB, she was administered one unit of blood but still they could not stop the bleeding therefore she was shifted to GVN Hospital at Mambalasalai, Trichy on 21st July 2021. From then onwards she was administered three units of blood, diagnosis was going on, after doing the endoscopy treatment she was diagnosed to have cirrhosis of the Liver (grade 3 ) subsequently leading to Ascities, portal hypertension and esophageal varices causing Haematemesis and Malena and stomach was getting distended.
After her persistent request, she was discharged from the hospital, on 1st August 2021. She was brought back to Shanthi Villa, Amathi Nilayam. She was with the sisters and the inmates for two days and three nights. After coming to Shanthivilla, she visited all the inmates individually, prayed and blessed them. She handed over all her responsibilities diligently to Sr. Lourdu Adaikalasamy, the newly elected Provincial. On 3rd August 2021, during the evening prayer, all the sisters were gathered around her and she expressed her gratitude to the members of the community and blessed them.
On 4th August 2021, from 2.00 pm onwards her health was deteriorating, she had severe breathlessness, her pulse was slowing down and community members were present to attend to her needs. The end came swiftly and painfully but she could no longer voice her feelings, the Lord alone, whom she faithfully served, could understand her as she breathed her last at 3.00 pm. Till the end of her life, she was very grateful to the Congregation, Province and all the sisters who had guided her towards reaching her goal to follow the crucified Lord.
Always her wish and prayers were authentic and true to her belief. Her love for the poor and the destitute, the less privileged were praise worthy. She never complained about struggles of life but lovingly accepted all the challenges and used it as an opportunity to glorify God. The routine task she performed never led her to boredom or frustration; she was always attuned to the signs of the time and was prompt in responding to it creatively.
Dear Sr. Miriam you have touched our hearts and left a legacy of your hard work, determination and loyalty to the Congregation. Farewell to you dear Sister Miriam, enjoy the eternal bliss with the entire Celestial Court. The great and mighty souls will definitely inherit the kingdom of God and we firmly believe that you are counted one among them.
Good bye to you dear Sister Miriam till we meet again in heaven.
Sisters of Amaithi Nilayam
Province of Tiruchirappalli,
05.08.2021
OUR PRESENCE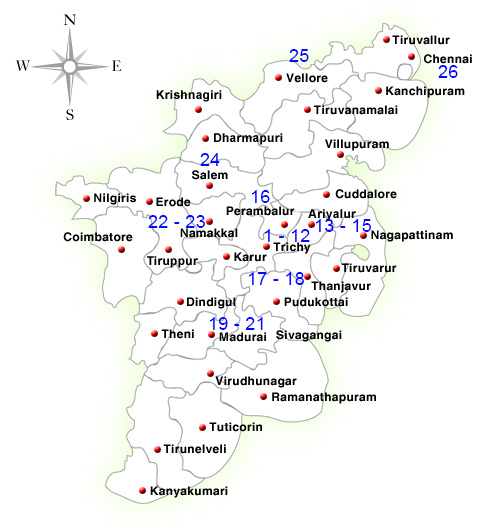 The sisters are placed in 26 communities and render their services in 7 Dioceses of Tamil Nadu.
Total no. of communities: 26 Total No. of Sisters: 225
1. Tiruchirapalli – Provincialate
2. Tiruchirapalli – Novitiate
3. Tiruchirapalli – Amaithi Nilayam
4. Tiruchirapalli – Golden Rock
5. Tiruchirapalli – Ashirvad
6. Tiruchirapalli – Cantonment
7. Tiruchirapalli – Fort
8. Tiruchirapalli – Butterworth
9. Tiruchirapalli – Mambalasalai
10. Tiruchirapalli – Ayekudi
11. Tiruchirapalli – Ayekudi Pre-Novitiate
12. Tiruchirapalli – Manikandam
13. Vadugarpetai
14. Kallakudi
15. Kovandakurichi

16. Fatimapuram
17. Oliyamangalam
18. Viralimalai
19. Palani
20. Oddanchathram
21. Anthoniyarpuram
22. Namakal
23. Paramathi
24. Yercaud
25. Vellore
26. Chennai – Perambur