"I have fought the good fight, I have finished the race,
and I have kept the faith" (2 Tim 4/7)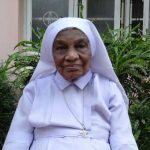 These words of St.Paul have come true in the life of our beloved Sr.Dona as she bade good bye to this earthly life, after successfully completing her race here on earth. Sr.Dona was born on 7th December 1926 to Mr. Joseph and Mrs. Elizabeth at Pulincunno, Kerala. She had 8 siblings, 4 boys and 4 girls and she was the fifth child in her house. She grew up in a loving and caring atmosphere with all Christian values. Sr. Dona's father being the former student of St.Joseph's College, Trichy, would always tell his children : "All for the greater glory of God", which had gone deep into her heart and bore fruit in the later stage of her life. From small she wanted to become a missionary. Through Sr.Marceline, Sr. Joan of Arc and Sr.Judith, she came to know about the Holy Cross Congregation and as soon as her school results were announced, along with Sr.Rita Thyveetil, Sr. Dona joined this congregation.
Sr.Dona entered postulancy on 7th July 1946 and joined the novitiate on 4th January 1949, at Amrawathi. Thanks to her Mother's strict training, she came to enjoy the Novitiate days with a different culture food and climatic condition. After her first profession she completed her studies at Holy Cross College, Trichy, and worked here in the same college for 20 years from 1955-1969 as lecturer and Head of the Department of Department of Zoology. She also served as principal from 1969-1975. She was an efficient principal, able administrator and a strict disciplinarian. After these stints in the college, she did her Theological studies at Regina Mundi in Rome and on returning from Rome she pursued her Doctoral studies in Zoology and became the Asst. Controller of Examination at Bharadhidasan University, Trichy, between 1985 and 1988. From 1988-1991 she was at Amaithi Nilayam and worked as Director of SOC SEAD.
To accomplish anything we need to begin somewhere to begin on the spur of an inspiration and keep at it through sunshine and storm. It was very much true in the life of Sr. Dona.  When she was asked to start a college, she had to face many challenges yet her firm trust in the Lord, enabled her to start Holy Cross College for women in BHEL Hyderabad and she became a Principal of  the college from 1991-2005. Then she was a sister in-charge of a community at Guntur. After completing her active apostolate in 2013, she came to Mambalasalai Community for rest and prayer. As Sr.Dona always mentioned "the only offering my God would want from me is the value oriented, well lived life and I am going to give him". She did her best in her given responsibilities.
Every person is born to give a message. Sr.Dona's simple life style, obedience, trust in divine providence, commitment to the given task, gentleness in her dealing with others, firmness in her decisions, courage in facing the challenges, finding joy and salvific value in suffering for Christ – these have spoken louder than her words. She was always kind and compassionate to the poor and won the hearts of people throughout her life.  In her 92 years of long life, she not only cherished the sweetness of the Lord in her personal life but also allowed the streams of grace to flow into the lives of others.
Sr.Dona Kokkad was operated on 3rd September 2018; though the operation was successful her health was gradually deteriorating due to her old age. On 6th October 2018, during the Eucharistic Celebration she surrendered her spirit peacefully into the hands of Jesus, her master.
Dear Sr. Dona at your departure to the heavenly abode the Holy Cross family has lost a good dedicated and loving member. We thank you dear Sr. Dona for all your contributions to the congregation, province and the community of Mambalasalai.
As you join all the choirs of Angels and Saints in heave, we are sure you will continue to intercede for all of us.
                         May her soul rest in peace                                                                                                                                       
06-10-2018                             
Sisters of Mambalasalai
Trichy