"Here I am Lord, since you called me." This was the first response given by Sr. Philo, forty years ago as she stood before the Lord on this same date 4th Jan, 1979. After 40 years of her religious life, she stands before us and says,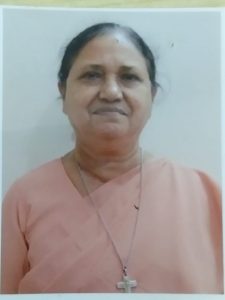 "My Mission is now finished. I have performed it to the best of my ability
I have got my leave. Bid me farewell, my beloved brothers and sisters
I bow to you all and take my departure. 
I received more than I could give. 
Now the day has dawned 
A summon has come and I am ready for my journey"
Thus at the age of 62, Sr. Philo Varghese has left us, quietly preparing herself to embrace the author of eternity. Indeed Sr. Philo's departure has left us in much disappointment and pain.  As she has joined the choirs of angels and the multitude of saints, the heaven of joyful life; with the comforting thought, that now she knows no more pain, we bow to the will of God "Yes" and bid the farewell she desires.
28th October 1957 was one of the most welcomed days for Mr. Varghese and Mrs. Annamma a devoted catholic couple of Alleppy, for they had the joy of holding their third born daughter in their hands. That cherished daughter is none other than Sr. Philo Varghese. She has two brothers and five sisters including Sr. Lilly Varghese who is with us, in our Congregation.
She was brought up in an atmosphere of love, understanding, and fear of God. In her biography she attributes her vocation to religious life, to her beloved paternal aunt late Sr. Amendine.  She was gifted with many talents; the virtue of sacrifice, giving up one's own likings for a better cause led her from Kerala to Tamil Nadu for her education. This shift demanded from young Philo to leave her parents' bosom and be sheltered in the care of her grandparents. When she completed her High school studies with flying colours, the piety, poverty and the hard work of Sr. Amendine drew her heart to serve the Lord in His people. Thus her journey to the religious life started blooming. She made her first profession in the year 1979 and Final profession in 1986. All through her life she cherished the happy memories of her companions and formators.
Here follows a short account of her life in her own words….
My vocation story is very simple, "Can I live it?" was the first question that arose in my mind, on the day I received my inspiration to live this poor and simple life. I felt a deep stirring that disturbed me and challenged me so much that I couldn't help, but say Yes to His call.
Having said yes to the Lord, Sr. Philo took up the ministry of teaching.  She was a teacher at Viralimalai, Oliyamangalam, Kumbakonam, Fatimapuram, Fort and Butterworth. Later she served as a Head mistress in the primary and middle schools at Golden Rock, Oliyamangalam, Butterworth, Fatimapuram and  Kumbakonam.  She also served as a vocation Promoter for two years and as a provincial Bursar for three years. While carrying out her ministry as a teacher, she was entrusted with the ministry of animation of communities at Oliyamangalam and Kumbakonam.
Sr. Philo was always calm, serene, and silent by nature. Enduring her sufferings patiently was her remarkable quality. She would make others laugh through her humorous narration of events while remaining quiet to herself. She was always systematic, neat and tidy in her ways. She was pleasant, trustworthy and had deep faith in the Lord. She had a special love for the poor and her heart always reached out to the poor in love and service. She was very generous in giving her listening ears to persons who are heavily burdened. She was very loyal to the congregation and she made every effort to make the good God known and loved.
After her retirement as a teacher, Sr. Philo took charge of the community at Viralimalai and Provincialate as an animator for two years and for one year respectively. During her stay at Provincialate, she noticed a slight decline in her health in the beginning of the year 2018.  True to her words she accepted her transfer to the community at Sathuvachari Vellore in June 2018. After  three weeks of her arrival at Vellore, she was diagnosed with the cancer of the stomach at CMC Vellore. Although the doctors gave her a time of three months, Sr. Philo was responding to the treatment well and by November last week she successfully completed her chemotherapy, showing signs of better health. On 21st Dec, Sr. Philo encountered discomfort in breathing, walking and in taking food. On 24th December, the discomfort was unbearable so we rushed her to CMC hospital. She suffered all pains gracefully.
From 29th of December she stopped talking and recognizing persons.  On 2nd January 2019, as the doctors gave no hope, Sr. Philo was brought to Fort community, Trichy on the same day and at 9.30pm, as the sisters and her family members were praying and singing around her bed, she breathed her last gracefully.
We thank the brothers and sisters who visited her and comforted her and offered care and service while our Sr. Philo was sick both in the hospital as well as in the community. Dear Sr. Philo as you desired you bore witness to Christ in the way you faced your illness. You had said yes to Jesus in health and sickness. So the God of eternity will lead you to his paradise holding your hands tight.
We shall definitely miss your silent but supportive presence in our community; we shall miss your valiant smile at the face of pain. Fare well dear Sr. Philo and as you enjoy the closeness of the Heavenly Father, pray and bless us from above.
Your loving sisters at Vellore Community
04.01.2019.